HERBODOX-100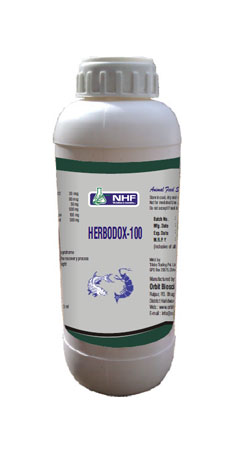 Herbodox -100 is the natural antiseptic and sterilizer. It posses strong antimicrobial action against gram positive and gram negative pathogenic bacteria and reduces the causative diseases in fish, prawns and shrimps. Herbodox-100 exhibits bactericidal action against the micro-organisms causing entric an systemic infections. Herbodox-100 is an unique, potent effective and powerful sterilizer. Herbodox-100 is extremely harmfull to bacteria, virus, fungi and protozoa and harmless to shrimps, prawns and fishes.
BENEFITS:
Herbodox-100 is very powerful and effective natural antiseptic having  bactericidal, anti protozoan action  and controls most of causative diseases of fish.
It helps to control  protozoan infections like mastigophora, trypanosomiasis, zoothammium, vorticella etc.
Herbodox-100 effectively kills all gram +ve and gram ve bacteria including E.coli, salmonella, pseudomonas                          & vibrio
It also controls fungal infection like fusarium, phythium etc.
It cures sweelen gills, red gills, tail roit, broken appendages in shrimps and prawns.
Herbodox-100 does not cause any stress or interference with growth while functioning.
Herbodox-100 does not get affected by organic matter, hardness of water, wide range of pH and varied salinity of water in culture ponds.
DOSAGE AND APPLICATION:
Shrimp, prawns and fish ponds: 1-2 litres /hac  (1 metre water depth) Dilute required quantity of Herbodox -100 in 100 litre of water and spray uniformly throughout the pond or as advised by the aquaculture consultant.
PRESENTATION:
1 Litre bottle