IMMUNE-100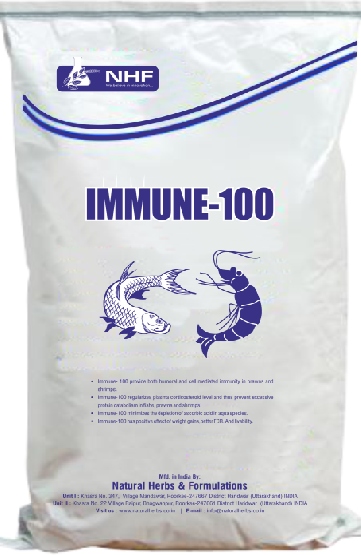 Immunity defines as a state or quality of being resistant (immune), either by previous exposer (Adaptive immunity) or as inherent trait (Innate immunity) constant stress in aqua species results in depletion of body protein due to excessive corticosteroid secretion leading to poor growth, weight gain, feed conversion, lagging performance, poor general resistance and immunity and ultimately resulting in severe economic loss to the aqua farmers.
BENEFITS
Immune- 100 provide both humoral and cell mediated immunity in prawns, fishes and shrimps.
Immune-100 regularizes plasma corticosteroid level and thus prevent excessive protein catabolism in fishe, prawns and shrimps.
Immune-100 minimizes the depletion of ascorbic acid in aqua species.
Immune-100 has positive effect of weight gains,better FCR. And livability.
DOSAGE
1 gm /100 ml per day.
PRESENTATION
10 gms, 100 gms, 1 kg.