NATURA BIOTIC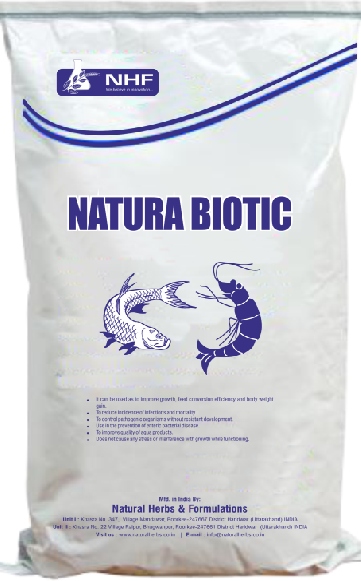 Aquabotic is a herbal antimicrobial growth promoter and performance enhancer for fishes, prawns and shrimps. Aquqbiotic  is  an  effective  alternative  to  antibiotic  growth  promoters  and  brings  significant  improvement  in  aqua performance. Which acts by restricting the growth of intestinal pathogens eg. E.coli, Vibrio sp., Salmonella etc.
Aqua biotic contains  natural oligosaccharides, which act as prebiotics to augment the population of beneficial microflora in the gut and to increase the growth and multiplication of helpful lactobacilli. Antibiotic growth promoters have been major components on aqua culture nutrition that help to reduce the level of pathogenic microbial population in the gut, prevent loss of dietry energy and improve production performance.
Now a days a serious problem in concern, the use of antibiotic growth promoters for aqua culture as use of any antibiotic over a period of time have the potential to create a pool of antibiotic resistant bacterial genes in the environment, allowing the pathogenic and non- pathogenic organisms to develop into supebugs causing direct or indirect human health hazards. A ban on usage of antibiotic growth promoters by marine products export development authority (MPEDA) and most of the countries importing aquaculture products has intensified the challenges of aqua farming.
Since the action of aquabiotic is structural rather than at nuclear level , it controls pathogenic organisms more efficiently without resistant development. Directly acting phytocomponents of aquabiotic are fully biodegradable are completely metabolized leaving no residues in the eco-climate.
Aquabiotic can be safely used as feed supplement to maintain optimum intake, digesion, absorption and utilization of feed in aquaculture by limiting the level of pathogenic gut organisms and to simultaneously improve growth, FCR, production performance with reduced incidence of infections and mortality.
BENEFITS
It can be used as to improve growth, feed conversion efficiency and body weight gain.
To reduce incidence of infections and mortality.
To control pathogenic organisms without resistant development.
Use in the prevention of enteric bacterial disease.
To improve quality of aqua products.
Does not cause any stress or interference with growth while functioning.
Dosage
Fishes :                           1 gm / kg of feed. Prawns and shrimps :  2-3 gm / kg of feed.
The feed inclusion rate may be doubled in challenging farm condition.