STICK PLUS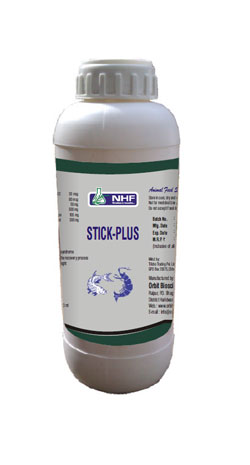 Stick plus is a unique natural binding agent and it contains natural protein based feed attractants which ensure smooth consumption and administered powders with pelleted feed for fish, prawns and shrimps. The properties of Stick plus does not affected with different water and pond condition such as varying pH, temperature and salinities Stick plus blends easily with firm grip with all powder formulations, controlling their bio-availibility and preventing wastage.
Benefits
Stick plus controls the activity and potency of administered power formulations at optimum levels, as it does not allow their dispersion with water.
Stick plus helps to promote growth and improve feed conversion efficiency
Its provide most efficient binding with pelleted feed or optimum bio- availability.
Stick plus is completely safe and eco-friendly and it does not cause pollution or any deterioration in quality of water due to its high stability in water.
Dosage
Take the required quantity of powder formulation and mix with stick plus to form a gel/ paste and apply the same on feed pellets, shade dry and broadcast. 20 ml to 30 ml of stick plus is recommended per kg of pellet feed or as advised by the aquaculture consultant.