VITAMIX-AF GOLD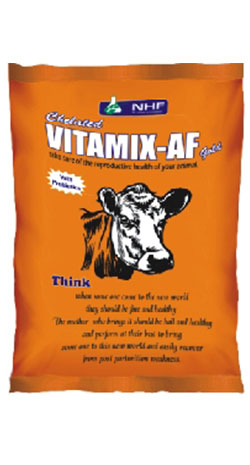 VITAMIX AF Gold
Mixture of Vitamins, Minerals and Probiotics fortified with milk enhancing herbs
Proper balance between nutrients, vitamins and minerals is crucial for optimum growth and production. Vitamix-AF Gold is a key product for high production and optimizes supplementation of dietary requirement and good gut health.
Indications:
Supplements Vitamins and Minerals, thus maintain physiological functions and acts as tonic
Pro-biotics maintain gut health and prevent intestinal infections
Special blend of herbs enhances milk production and smooth let down of milk
Helps in weight gain and milk production
Mixing ratio/Dosage:
Cow/Buffalo- 30 gm per day for maintenance and better milk production.
Calf/Sheep- 25 gm-30 gm per day for better weight gain.
Pig- 25-30 gm per day for better weight gain and maintenance.
Horse- 50 gm per day.
Presentation:
1.2 kg, 2.5 kg, 5 kg