BOON
Natural Growth Promoter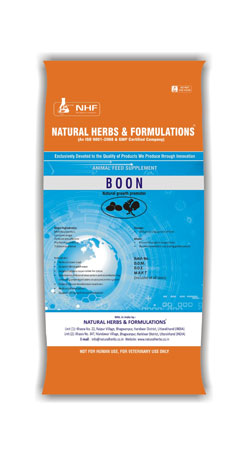 Boon
(The Natural Herbal Growth Promoter)
BOON remains active throughout the gastrointestinal tract and as a consequence, it exerts broad spectrum antimicrobial action and enhances nutrient utilization. Recently most of the antibacterial performance promoters have been banned because the feeding of antibiotics is risky. On the other hand, BOON containing plant extracts, essential oils or main components of the essential oil are among the alternative growth promoters that are already being used in practice. Modern medical science has developed to a great extent; many farmers depended on BOON which is herbal remedies for indigenous poultry health management.
Benefits
Reduces toxin load Support detox pathways
Support organs responsible for detox
Improves nutritional absorption and assimilation by removing unwanted toxins orpoisons in the system
Helps to lessen Herxheimer reactions
Reduce inflammation
Support lmmune/lmmunomodulator
Dosage
500 gm to 1kg per ton of feed
Mode:

Ensure through mixing in feed.
Recommended for use during pelletization.
Packing & Presentation
1 Kg & 25 Kg HDPE Bag